Eco Blog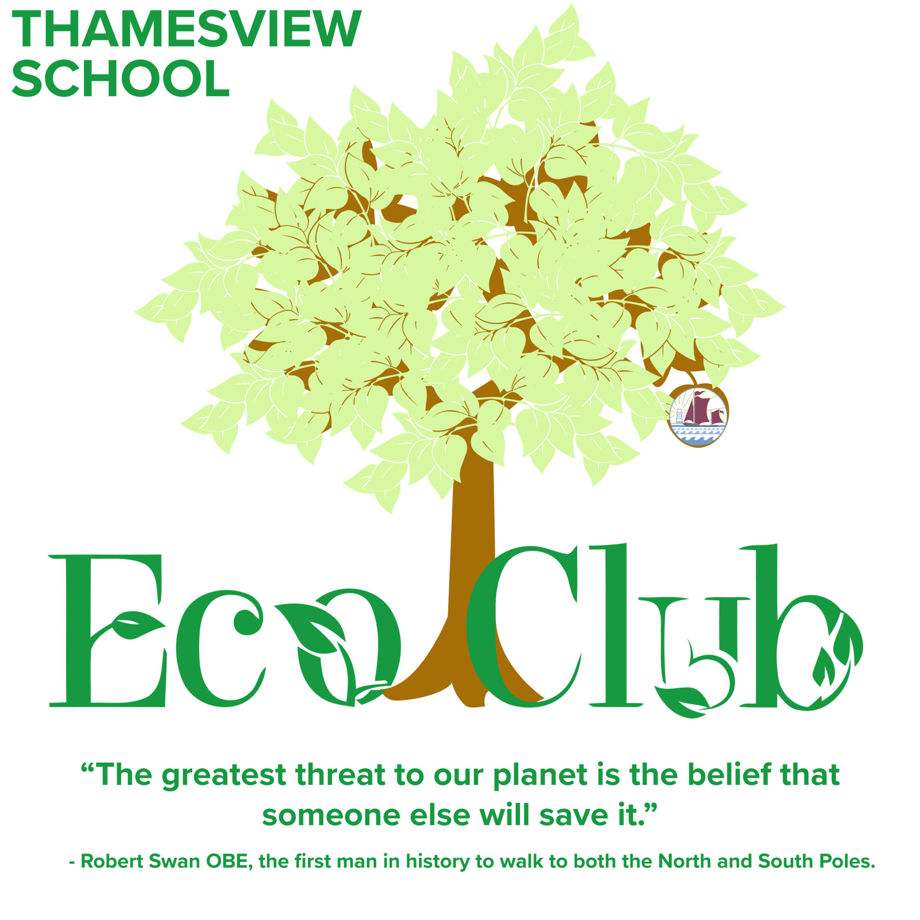 Introduction
The Thamesview Eco Club was started in November 2019 in response to the Greta Thunberg movement and the frustration students felt from not being heard as young people. Students wanted to be a part of something bigger than themselves. They could no longer just standby and do nothing. The club welcomes students of all year groups who have a passion for environmental issues. Our aim is to raise awareness and empower students to make a difference.
Eco-School - Green Flag Award
During Eco Club meetings, students spend hours discussing and debating issues that they are passionate about but in the early days it was hard for them to decide where to start and what projects deserved their attention more. It was concluded that their ideas needed to be structured and there should be a goal that they were all working towards. The group decided to attempt to achieve the Green Flag Award through the Eco-Schools programme.
Eco-Schools is a global programme engaging 19.5 million children and nearly 1.5 million teachers across 67 countries, making it the largest educational programme on the planet.
Since 1994, Eco-Schools England has been empowering students to drive change and improve their environmental awareness through the same simple Seven Step process that has been used successfully across the world. Their student-led programme involves hands-on, real-world learning, motivating the whole school and the wider community to take part in exciting environmental projects based on their nine Eco-Schools topics.
The award programme guides schools on their sustainable journey, providing a framework to help embed these principles into the heart of school life. Each of the schools involved in the programme has actively tackled environmental issues from litter and waste recycling to healthy living and biodiversity.
After completing the Environmental Review in December 2019, students concluded that the three areas/topics that needed the most attention at the school were energy, marine, and waste. An action plan was created and the students now had goals to work towards knowing that the school would be more environmentally sustainable by the end of it.
Composting
The Eco Club joined powers this week with the Year 7 Wellbeing Club and have created a new system that aids the goals of both groups. The Wellbeing Club members are creating a little nature haven on the school grounds. They have setup a greenhouse surrounded by a lovely garden next to the school's pond that houses an endangered newt species. When students from both clubs got together to discuss their plans, they discovered that they could help each other out. The Eco Club wanted to reduce the amount of rubbish the school produces and the Wellbeing Club needed compost for their plants. With help from the food department, students doing cooking lessons are now asked to put their food scraps in small containers which are then collected by the Wellbeing Club students and placed in the school's composter. This solution has helped reduce waste and increased compost production. Win-win!
My Beach Clean
My Beach Clean by Emma Sawyer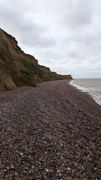 On the weekend, when I was walking along the beach, I saw some rubbish lying in the rocks. Being a member of the Eco Club, and having learnt about the effects of plastic in the oceans in lessons, I could not just leave it there. Research shows that over 150 plastic bottles litter each mile of UK beaches. This can seriously harm wildlife, as 100,000 marine mammals and turtles and over 1 million seabirds were killed as the effect of plastic pollution in our oceans yearly. We walked for around 1 hour and luckily, had a bag with us to put all the rubbish in. There were lots of bottle caps, lighters, and can drinks. As you can see from the photo it looks quite clean, but unfortunately even on the cleanest of beaches there is still lots of rubbish. At least 8 million tons of plastic enter the oceans each year. That's similar to emptying a rubbish lorry full of plastic into an ocean every minute. At the end of my walk I was shocked at quite how much we managed to collect. This contained 6 lighters, 4 plastic bottles, 6 can drinks, nets, rope, straws, 37 bottle caps, food wrappers, plastic cups, along with lots of other plastics, and non-biodegradable materials. Plastic does not belong in our oceans, and it doesn't take long to pick bits up. By picking bits up, you are helping the planet, and securing your, your children and even your grandchildren's futures. Even if you think one person can't do much, you're wrong. One person can help make the huge and well needed change to the crisis we have found ourselves in. I enjoyed my walk and felt proud to have done a little bit to help save our oceans from drowning in plastic.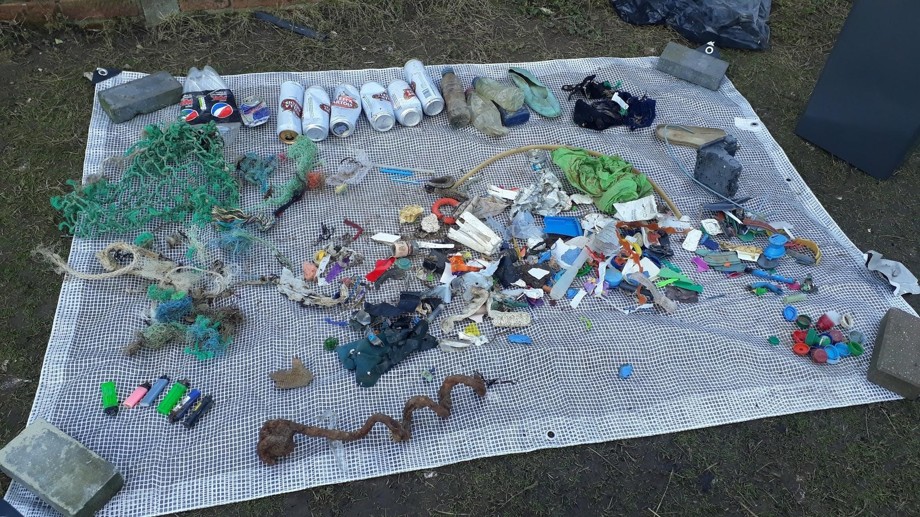 Thamesview School?s Journey to Eco: Switch Off Fortnight
Our journey to eco, officially started this week, and it's all getting very exciting. Our 3 main topics we have chosen are waste, marine and energy. This week we told everyone in the school about our Switch Off Fortnight Campaign, by informing staff at their meeting, adverts on the school plasma screens in the Heartspace and cafeteria, and by doing an assembly for each year group. This allowed us to let people know about the campaign happening in school from the 17th-27th March and encouraged students to stand up for their rights into saving our future. We also spoke about Earth Hour on the 28th March as this is a global event taking place to highlight environmental issues across the world. We felt the assemblies went well and hope that the message was clear and convincing. Next week, when the campaign in school officially starts, we are going to monitor and make sure our school does it's bit to help save the future of this planet we have destroyed.
Reducing Plastic Wastage Poster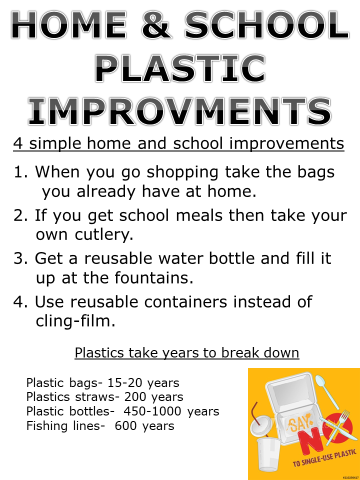 Congratulations!
Our very own Emma Sawyer had this article published in an issue of Student Life magazine.
We've all been walking along a beach or river one day and seen bits of plastic, big, small, and in all sorts of colours, lying in the sand or pebbles. Sadly, the amount of plastic in our oceans is only going to increase unless we do something about it. FACT: Experts believe that by 2050, there will be more plastic than fish in our oceans, by weight. This is shocking, but sadly true. Every minute, the equivalent of a whole truck full of rubbish enters the ocean. Most of this plastic comes from countries living in poverty, who do not have waste collection services. We can't just blame those countries though, as every country is responsible. Plastic takes 1000 years to decompose, but it never really disappears. Instead it just turns into microplastics, which will remain in our oceans forever. But how does plastic end up in the oceans? Here in the U.K, littering and using the wrong bins are the main reasons that plastic ends up in the ocean. Every time you throw away something that could be recycled, the plastic goes to landfill and can easily be blown away onto the streets again. The plastic blown from landfill, alongside littering, can be taken by the wind and rainwater and are then carried into our drains; they can eventually end up in our oceans.
But how can we help reduce the amount of plastics going into the oceans? Reducing our reliance on single use plastics, such as straws, plastic bags and bottles and takeaway containers can have a huge positive impact on the environment. Luckily, there are lots of alternatives that we can use in our everyday lives that can help save our oceans. These items include things such as reusable straws, bags-for-life's, and reusable bottles. Using these items, though they may seem expensive, will save you money and the environment. If everyone started using reusable water bottles, the 20,000 plastic bottles produced every second will decrease, leading to less plastics going into our oceans every day. Our actions now can have huge impacts on our future. We need to act now before it's too late.
How has the Global Pandemic affected the Environment?
How has the environment been affected by COVID-19?
Whilst the pandemic has had major impacts on people's lives, nature has been given a chance to thrive.
Air pollution in major cities around the world have cleared by almost 70%
Many species that have not been spotted in the UK for many years have come back.
Animals have been gaining confidence and have been seen in unusual places.
Air Pollution Across The World
One of the most amazing things that have happened in our surroundings during this global pandemic is how air pollution has almost cleared itself.
Air pollution is caused by the release of greenhouse gases such as carbon dioxide, methane, nitrous oxide, and chlorofluorocarbons.
In parts of the world, air pollution levels have dropped by almost 70%.
On the next slide are some photos that show places around the world before and during the COVID crisis.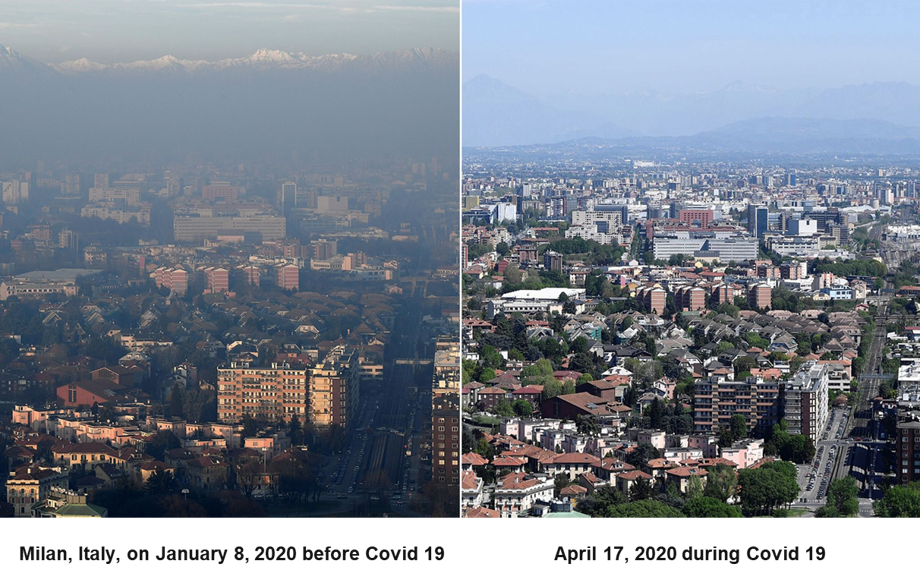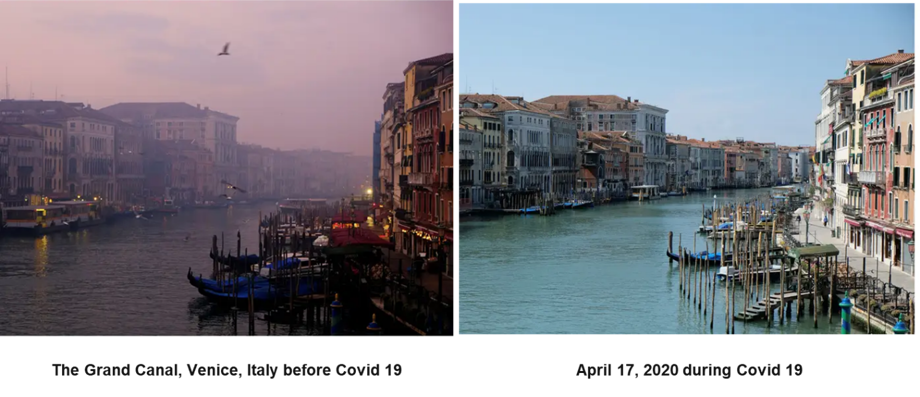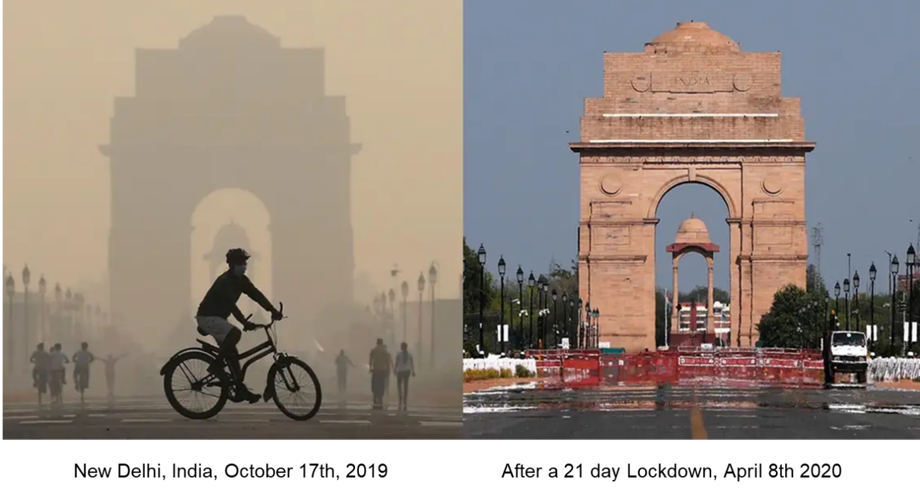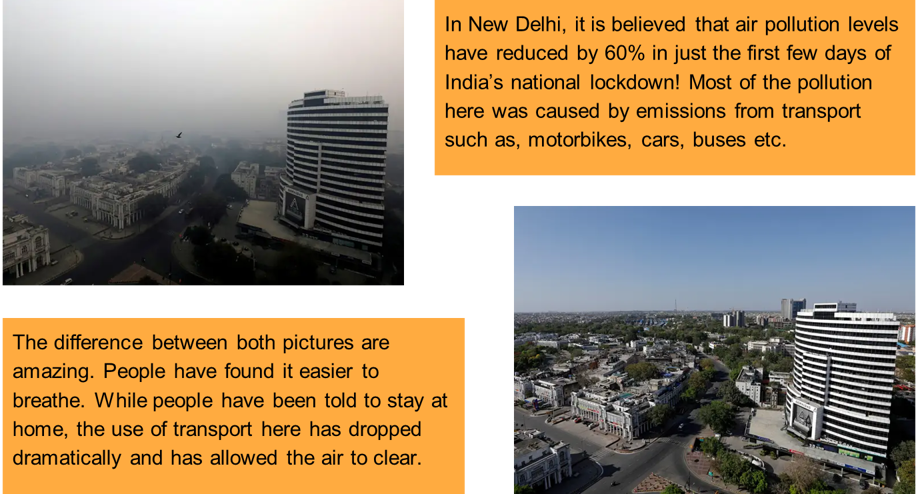 Whilst We Have Been Stuck Inside...
Wildlife have been doing great!
Species that have not been seen for years in the UK have been spotted again.
Animals have gained confidence and had their own adventures on our usually busy streets and urban areas.
Many people have noticed that bird song is clearer in busy urban areas than before. Usually shy and not seen very often animals have become more confident because of the reduction of people. Deer have even been spotted on people's lawns in towns and other urban areas in the UK and wandering the streets in Japan.
In Wales, goats that can usually only be seen high up in the mountains have come down to local streets.
In Cape Town, South Africa, penguins have been seen taking themselves on a tour of the empty city.
In San Francisco, coyotes have been seen wandering the streets.
In Adelaide, Australia, a kangaroo was seen bouncing along the streets.
In Venice, Italy, jellyfish were seen in the clear water of the canal.
In London UK, deer were seen munching on grass.
But Whilst There have been many Positive Effects from the Pandemic...
The littering of face masks and gloves has been bad for the environment.
It takes 450 years for face masks to break down whilst the time for gloves to break down is unknown, scientists believe that it could take many centuries.
Unfortunately, the protective equipment used to keep ourselves and others safe are single-use and should be thrown away after being used.
Put gloves and masks in a bin after use instead of littering to help wildlife.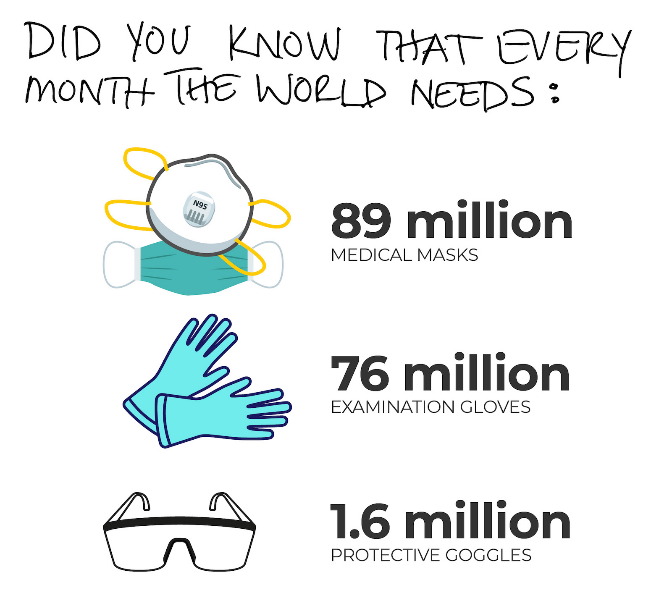 We're Getting There: Bronze Award Achieved!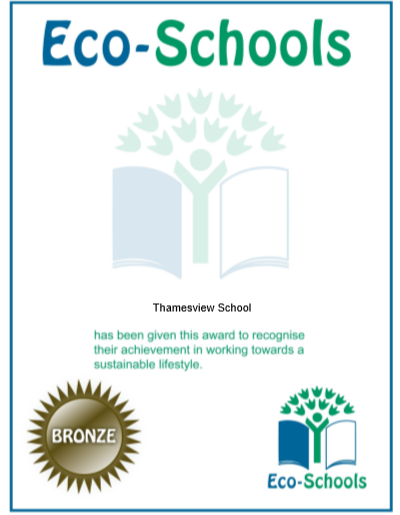 Trip to the Thames!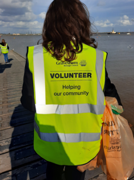 On the 20th of October 2020, we went on a litter pick down at the Prom to help the environment and marine life.
As a group, we partnered up with Surfers Against Sewage and Gravesham Borough Council. We chose to do a litter pick here as one of our Eco-School topics is marine and since our school name is Thamesview, we thought we should go down to the River Thames and give back to our name sake.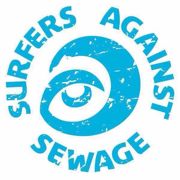 We left at the start of the second lunch, and went to the prom where we met a lady called Kirsty. She gave us some bin bag holders and litter pickers and we headed to the river. Overall we collected 5 bags of rubbish and the bags were really heavy. The most common litter we found were cans and plastic bottles which can take up to 500 years to decompose in the sea. During that time, this litter could cause great harm to animals and wildlife.
Eco Board Updated!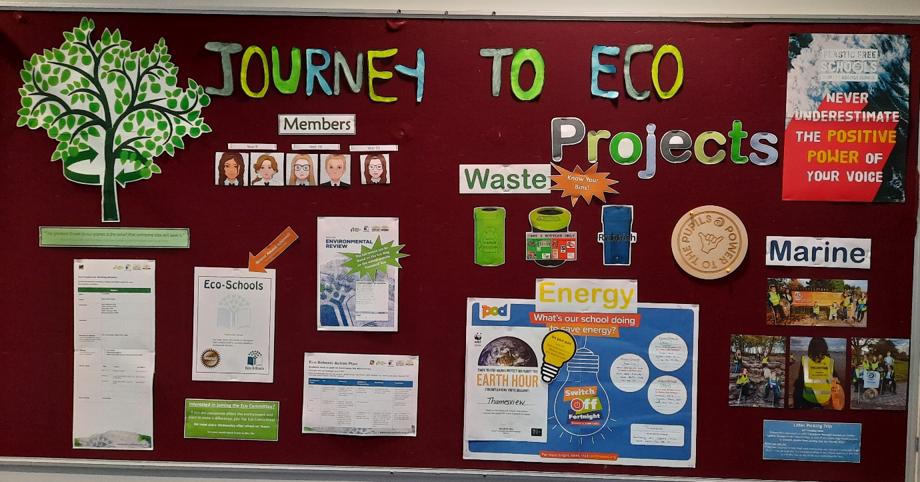 As part of our Eco-School journey, we need to display all of our aims, projects and updates on our Eco Board. Unfortunately due to Covid-19 restrictions and year groups having to be stay in their bubbles, not a lot of students have been able to see it. The Environment Review and Action Plan can now be found on this blog, along with details of our projects like the Thames River Litter Pick Trip and our Switchoff Fortnight. Fingers crossed that soon more students will be able to see our actual board and will want to join our group.
Nearly There: Silver Award Achieved!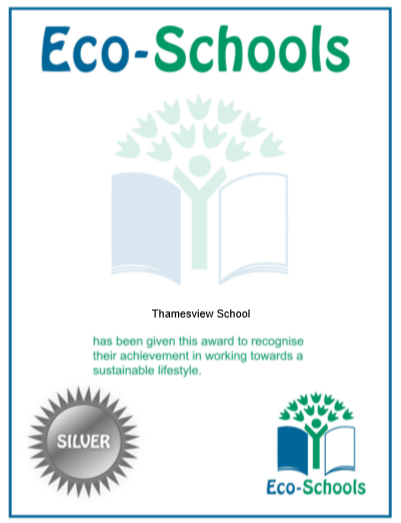 Big Schools? Birdwatch
Due to lockdown, we were unable to participate in the Big Schools' Birdwatch this year so instead we asked our Eco team and members of staff to take part in the Big Garden Birdwatch instead. For an hour, they sat by their windows or bundled up tight and made a note of which birds landed in their gardens. It was a much needed mental break from all the Teams and Zoom meetings. Although the official watch is over, why not take some time to see which of these you can see in your garden.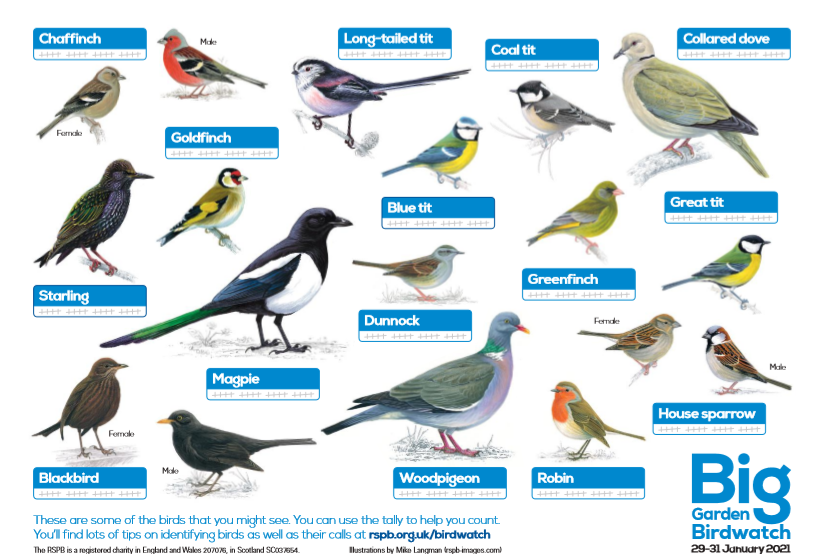 CAMPS International Environmental Protection Presentation
On the 3rd and 10th February, the Eco team were treated to an online presentation from the team at CAMPS International Environmental Protection. The topic was "Plastic Pollution in Borneo". Students learnt about the damage that plastics do in our oceans, how the ocean currents wash a lot of plastics onto the shores of Borneo and how Borneo deals with this issue. During the second presentation, pupils were given the opportunity to ask the Borneo CAMPS team about the issues they face. The meeting was live and despite the time difference, we managed to fit it in during school day hours (9am our time, 5pm their time). The Eco team members not only learnt about the impact that ocean plastics have on the Borneo community, they also learnt about it's tourism industry, socio-economic situation and it's government. If you would like to learn more about plastics in our oceans and how it impacts on the real lives of the people of Borneo, just click here.
Ink Cartridge Recycling
Working from home and homeschooling means that we are going through more ink cartridges than ever before. Most of these empty cartridges are just ending up in landfill. This concerned our Eco team whose aim is to reduce wastage. As a solution, Thamesview has partnered up with Recycle4Charity. They will recycle our ink cartridges from home and donate money to our chosen charity, Kent Surrey Sussex Air Ambulance. So if you have empty ink cartridges at home, don't throw them away, please keep them safe until we are back at school so they can be collected and recycled.